One day in 2010, I was praying to the Lord. It was a difficult time and bad news surrounded me on every side. I prayed to God about it and as I prayed, I could see off in the distance a tiny light- my eyes were closed. It was coming my way and as it got closer, I could see it was something in writing and closer and closer it came, until I could see it.  I saw "Isaiah 51:12" written out in a light with the darkness of my closed eyes around it.
I got up from my prayer and opened up my bible to Isaiah 51:12
"I, even I, am He that comforteth you; how art thou that shouldest be afraid of a man that shall die, and of the son of man which shall be made as grass."
I knew immediately that I needed to stop worrying about all the bad reports around me and trust God. It's not easy. It's like being in a storm and saying there is no storm, but you can be in the storm and know you'll be okay. God is with you and this will pass. Jesus made it clear that He doesn't want us to worry, we need to trust Him and have faith. To be honest, it wasn't easy not to be shaken by the reports around me , but God wants us to listen to Him and His promises for us- not the bad reports around us.  I like the verse " Be wise to what is good and be simple to what is evil". Remember the disciples on the boat during the storm? Jesus was sound asleep , he woke up and rebuked the storm. Had the disciples seen this, they wouldn't have worried, but they were fearful because all they could see was the doom of the next minute – which never came.
Isaiah 51:12 tells us that the Lord is the One who will comfort us, He has compassion on us, He will put us at ease. Don't be in fear, dread of the terrible things you hear and see from man- who is man anyways? he's like grass, here today and gone tomorrow.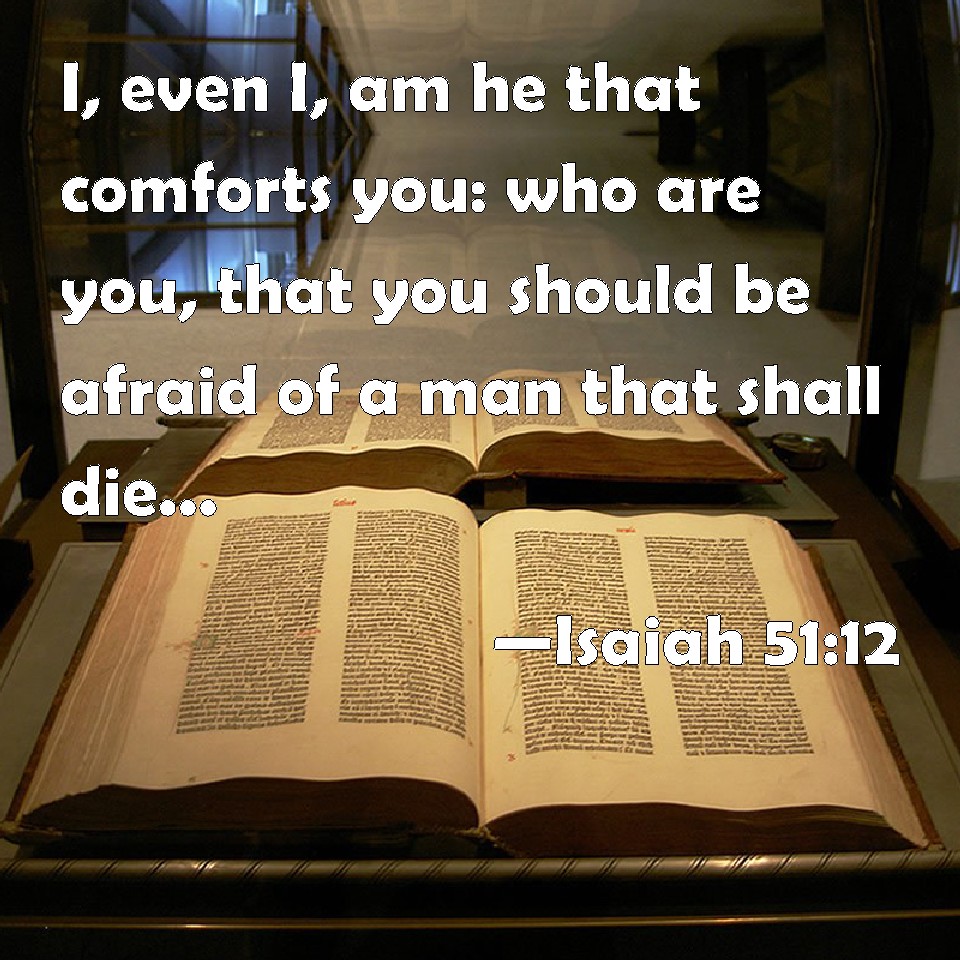 The chapter goes on to say….
Don't forget your maker, the One who stretched forth the heavens and laid the foundations of the earth, and why do you continue to fear the fury of the oppressor? and where is this fury?
But I am the Lord thy God, that divided the sea,  whose waves roared: The Lord of hosts is His Name. And I have put my words in thy mouth, and I have covered thee in the shadow of mine hand, that I may plant the heavens, and lay the foundations of the earth, and say unto Zion, THOU ART MY PEOPLE. Isaiah 51
He is the great El Roi, the God who sees
He is the God who hears
He heals you
He is your shield
He rebukes the winds and seas
He provides
He protects
He is your strength
He is your rock
He is uour deliverer
He is your shield
He is the Horn of your Salvation
He is worthy to be praised
He saves you from your enemies
He preserves the Faithful
How great is the goodness for those that Fear Him and trust Him
He is your redeemer
He is your support
He is your salvation
He will strengthen you , He will bless you with peace, He will lift you up
Mercy surrounds you because you trust Him
Blessed is the man who trusts in the Lord, and whose hope is the Lord. For he shall be like a tree planted by the waters, which spreads out its roots by the river, and will not fear when the heat comes, but its leaf will be green, and will not be anxious in the year of drought, nor will ease from yielding fruit. Jeremiah 17:7-8
May you be filled with the knowledge of His will in all wisdom and understanding, that you walk worthy of the Lord, fully pleasing Him, being fruitful in every good work and increasing in the knowledge of God. May you be strengthened with all might according to His glorious power, having all patience and long suffering with joy, always giving thanks to the Father who has qualified us to be partakers of the inheritance of the saints of the light. The Lord has delivered us from the power of darkness and conveyed us unto the kingdom of the Son of His love in whom we have redemption. May His peace, His mercy and His Loving kindness protect and surround you today and always.