You've probably heard the hype by now and you may think you don't have to worry about it, but if you have teens or preteens, take another look. So many of us- well-meaning parents,  have found out that our children have watched these episodes of "13 Reasons Why" on Netflix already either at home, on their phone, on a friend's phone, at a friend's house or even at school. You'd be surprised.  I just found out my teen watched it on her friend's phone at her Christian home school group because her friend was watching it on her phone throughout their lunch.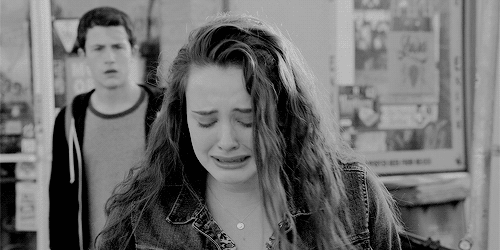 It triggers suicidal thoughts!   Face it, we really don't know everything going on in our children's lives – we think we do, but with social media, cell phones, computers, etc, our children have access to everything -and they know how to hide everything.
Increases self harm- Triggers more cutting. Our kids our cutting themselves, inflicting pain to escape their own mental pain and this show will only make it worse. If you see your child in any state of depression, check them for cutting. They are now cutting themselves in areas you wouldn't look . So sad!  It seems the internet, cell phones and social media have stolen our children from us. It's gotten out of control.
God's word says to be wise to what is good and simple to what is evil. Turn their focus on God,  pray for them.
It does more harm than good.  Alexandra Contrades-Lacy at change.org said "After finishing the series, I became depressed and was suicidal for the first time in a year. This show was a trigger. Yes, I will take responsibility that I watched this on my free will. The difference is that I am taking action. This show makes teenagers believe that no one out there will help" Please take time to

SIGN HER PETITION

and get this show off the air

: 

 https://www.change.org/p/selena-gomez-remove-13-reasons-why-from-netflix,
To stop the lying! "No, mom, I haven't watched it " Many moms have NO idea their children have already seen almost every episode and mama, you have no idea. My daughter said she watched the first episode on her friend's phone.  A friend of mine, who is always on top of everything her children do, had no idea her daughter had watched all 14 episodes on her school laptop. Talk with your teens and preteens. Check your Netflix accounts to see what has been viewed at home.
This is  another enemy tactic to destroy your children. The thief comes to kill, still and destroy, but God wants our children to have life and to live in life abundantly -not to suffer in torment and depression. Turn on Praise music, remember how the tormenting spirits left King Saul when David would play His harp.
It glorifies and romanticizes suicide and mental illness.  "

Suicide is romanticized and almost glorified in this show, as Hannah reclaims control of her life by ending it

" according to Leah Murphy at http://lifeteen.com/blog/watch-13-reasons/  Read linked post for more information.
This show doesn't teach them to correctly deal with pressure, depression, stress, feelings of hopelessness, suicidal thoughts and bullying. Get help and/or get out of that situation.
Because you LOVE them. It's so easy to look the other way, isn't it? Every effort you make for your child makes a difference. Talk to them. I know everyone thinks their child doesn't lie, but go through their phones, laptops and see what they've been looking up. Also be aware of the new fad the blue whale challenge BWC:  http://www.palmbeachpost.com/news/blue-whale-challenge-warnings-sent-parents-about-suicide-game/sVqvIb50Ycf2vMNlx8E9AP/                                                                          

  ****** See short video below on BWC, warning have gone out all over the county and school systems on this. 

Because it's your responsibility, a great gift from God that He has entrusted this child to you. Guard your children. I've read comments from parents and counselors that this show has already killed children.    SAVE YOUR CHILDREN
Because suicide is not entertainment and neither is mental illness. This show is harmful and defined by others as disgusting- a show that glorifies rape, graphic content ,suicide, sexual conduct, drinking, f words, lots of sex among young high school sophomores.
Sends the wrong message to teens.  Promotes feelings of hopelessness and no promotion of help or resources for their suffering.
You must guard their hearts. And I'm calling BS (Bull shark) on everyone who says they think this show was unintentional and it was originally meant to be a well intended show. Shame on you pluggin in!  Your reviews are far from Christian anyways.
If you've discovered that your child has watched the show, don't get angry. Use the time to open up and talk about it. Don't let it go by without replacing the lies with truth.
Watch the short video below to see a clear picture of what this show is about.
For More information:
How can we make a difference?  Cancelling your Netflix account or sending them an email might make a difference. Netflix: 1-866-579-7172
Lord, Crush and destroy this show and any show that tries to destroy your people and your children. Do not let another episode air and keep every child from seeing it. Take this show down in total destruction. Protect all the children suffering and give them hope and a new found joy in You. In Jesus name, amen
As I researched this and read comments from parents, counselors and teen I was distraught, shocked and saddened.  So many people have had loved ones die of suicide and this show was a factor. Many  said this show was the reason for the suicidal deaths of their children, friends and patients. It's more dangerous than I could have imagined. Read though some of the comments on the petition listed on #4, (you might have to sign the petition first) and you'll read a few first hand reports on how this has affected lives of so many.